Macon County Republican Women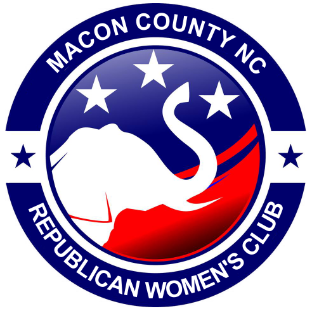 Macon County Republican Women's Club

"Faithfully Serving Our Community"

Monthly meetings are on the third Tuesday and held at Fat Buddies - 311 Westgate Plaza, Franklin, NC 28734.

Order your lunch at 11:30 AM. the meeting starts at 12:00 noon.

Come get an update on candidates, news of legislation, a good lunch, learn about upcoming events and projects, and enjoy fellowship with other like-minded ladies.
Our purpose is: to promote an informed public through political and educational activities; to increase the effectiveness of women in the cause of good government; and to support the GOP campaign activities, both financially and by providing a volunteer workforce, at all levels of Party activity.
February Meeting
The Macon County Republican Women's Club met on February 21st at Fat Buddies BBQ restaurant. The guest speaker was Alisa Ashe, director of Kids Place located in downtown Franklin. Kids Place provides a much-needed service to at-risk children.
Contact the Macon County Republican Women's Club

Linda Herman, President
Mail Correspondence to:

Macon County Republican Women

353 Carolina Mtn. Dr, PMB# 155

Franklin, NC 28734